Center for Local Government Excellence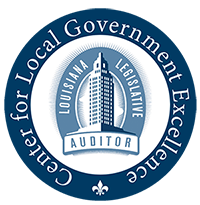 General Information
In October 2021 and February 2022 the Louisiana Legislative Auditor, through the Center for Local Government Excellence, offered complimentary virtual classes on a variety of topics specifically designed for Louisiana's local government officials and their staffs.
These sessions were recorded to enable viewing by those who were unable to attend or for those who were able to attend but want a refresher. The goal of this program is to enable local officials to take the knowledge and skills gained from these classes back to their respective governments and use them to make a positive difference.
The October 2021 classes included Public Bid Law and Cabela, American Rescue Plan Act, Internal Controls and Best Practices, Understanding Governmental Financial Statements, Justice System Funding Reporting (Act 87), Open Meetings Law and Public Records, Local Government Budget Act, and Statewide Agreed-Upon Procedures.
To view sessions and handouts from that workshop, please click on the link below:
View the full content for our 2021 Virtual Workshop
The following classes were offered at the February 2022 virtual workshop: Governance of a Public Entity Part 1: Core Principles and Recommended Implementation, Governance of a Public Entity Part 2: Practical Applications and Lessons Learned from the Trenches, Protecting Your Bank Balance: Preventing Disbursement Fraud, Public Bid Law: Recurring Issues and Legal Solutions, Managing Capital Assets, The Road to a Smooth Recovery, Legal Hot Topics, Resolving Common Audit Findings, Effectively Communicating Financial Information to the Board, and American Rescue Plan: Final Rule Update.
To view sessions and handouts from that workshop, please click on the link below:
View the content for our 2022 Virtual Workshop