Center for Local Government Excellence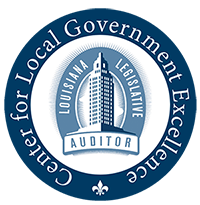 General Information
During 2016 and 2017, the Louisiana Legislative Auditor (LLA) began a complimentary training and certification program across the state specifically designed for Louisiana's local government officials and their staffs. In keeping with the LLA's purpose to help ensure that government is accountable, transparent and responsive to the needs of the people of Louisiana, these courses were expressly created to help improve both the services local government delivers to its citizens and the quality of local government audits. We believe that if local government officials and their staffs are better prepared for audits, this kind of training can effectively help local government decrease both audit costs paid and its overall operating costs, as employees become more efficient.
The two-day Level 1 workshops that were offered in 2016 and 2017 introduced participants to the basics of internal control, accounting and financial reporting for local governments, and delivered helpful instruction on legal issues that local government officials and their staffs often encounter. If you did not have the opportunity to attend any of the Level 1 sessions and are interested in obtaining the course materials, those are available here.
Level 2 workshops are being offered in regional areas across the state in 2018 and 2019. Level 2 classes build on the basics of Level 1 classes and include more detailed topics in the areas of internal control, high-risk areas and fraud, and additional legal issues pertaining to local government entities. It is not necessary to have attended Level 1 classes before attending Level 2 classes.
The goal of these training sessions is to enable local officials to take the knowledge and skills gained back to their respective governments and use them to make a positive difference.
For general information, please contact Andrée Taylor at The Center for Local Government Excellence, clge@lla.la.gov or 225-339-3996.